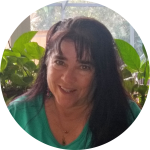 About Laurie (in her own words)

I enjoy living in an endless summer state of mind. I am lucky to be a poet, but I consider myself even luckier to be loved by family and friends who gift me with their essence, which ultimately becomes the poetry in my life.
What role does poetry play in your life?
Every poem is a journey; every journey, a poem. Poetry guides me on my journey.
Can you mention some of your favorite books or authors?
This is such a dynamic question because the answer is forever changing. I love discovering new writers on a daily basis.
I lived in Japan for many years, and I find that the haiku poets, Issa and Basho, influence my tastes and my own writing style.
When I taught high school, my students were resistant to reading poetry, thus I turned to spoken word poetry as a vehicle to help them appreciate the genre. I love the vitalizing voices of spoken word poets such as Sarah Kay, Phil Kaye, and Shane Koyczan.
A poet I just discovered on my daily discovery of poets answer is James Crews. Then I always go back to my first loves (in no particular order):
Marge Peircy, Pablo Neruda, Robert Frost, HD, Sharon Olds, Dorothy Parker, Gregory Orr, Kimiko Hahn, Bruce Weigl, Dave Smith, and Billy Collins. But, ask me this same question tomorrow, and I will have a most different answer and a new list of names.
Do you have any personal poetry moments you'd like to share?
I love the elements of the haiku: the imagery, the seasonal focus, and the notion that human nature is reflected in the natural world. Here is a moment for you:
"In this world
We walk on the roof of hell
Gazing at flowers"

Kobayashi Issa
---
How to get in touch with Laurie: check out her portfolio online
https://lauriekuntz.myportfolio.com/home-1