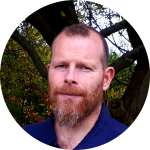 About Steve (in his own words)
I live in Kildare, Ireland with my wife Eimear and our daughter Robin. I am 45 years old and still figuring things out.
I gave a lot of years to jobs that I hated and am now a stay-at-home father. I am not really a fan of poetry but it turns out that when I write, poems are what come out.
What role does poetry play in your life?
Writing poetry helps me understand life and my place in it. It's been a really useful thing for me.
Can you mention some of your favorite books or authors?
My favorite writers are Salinger, Bukowski, Glen Duncan and early/mid-period Paul Auster. A favorite book that really deserves more attention is 'The Bottoms' by Joe R. Lansdale.
Do you have any personal poetry moments you'd like to share?
One of my favorite songs of all time is Burma Shave by Tom Waits which, to me at least, contains some of the most evocative poetry ever written. Here is a verse from it that immediately takes me to a whole other time and place.
and with her knees up on the glove compartment
she took out her barrettes and her hair spilled out like root beer
and she popped her gum and arched her back
hell Marysville ain't nothing but a wide spot in the road
some nights my heart pounds like thunder
don't know why it don't explode
cause everyone in this stinking town's got one foot in the grave
and I'd rather take my chances out in Burma Shave

Tom Waits, Burma-Shave (Foreign Affairs, 1977)
---
How to get in touch with Steve:
through his website
he's on Twitter as @SteverinoD
email: denehan AT gmail.com